online padel Academy
Learn padel from the world's best
+300 online lessons by pros
€8.25/month billed annualy.
BE INSPIRED BY THE BEST
WATCH HUNDREDS OF LESSONS FROM TOP PROS AS THEY SHARE THEIR STORIES, INSTRUCTION, DRILLS, FAILURES, AND SUCCESSES.
OUR LEARNING PROGRAMS
WATCH HUNDREDS OF LESSONS FROM TOP PROS AS THEY SHARE THEIR STORIES, INSTRUCTION, DRILLS, FAILURES, AND SUCCESSES.
ENJOY PADEL IN YOUR OWN LANGUAGE
At Hello Padel Academy, we don't want you to miss a thing! So, by clicking on the button below, you can view the whole platform in your own language. Most of our videos have subtitles in 6 languages; English, Spanish, French, German, Arabic and Italian. To access this option, just open the lesson you wish to learn from and click on the CC/subtitle option located at the bottom right of the video.
TEACH LIKE THE PROS
Subscriber? - 50% discount on all Coach packs with any subscription plan
IMPROVE YOUR GAME IN 10 MINUTES OR LESS
Watch quick drills, take new tactic tips or just enjoy what the top players and coaches have to say about this unique sport. Hello Padel Academy fits in any part of your day.
HELLO PADEL ACADEMY IS A MENTOR AND EXAMPLE FOR THE INTERNATIONAL PADEL COMMUNITY, ITS WORK WILL HELP THE SPORT TO GROW IN A RESPONSABILE AND WELL-MANNERED WAY.
SANYO GUTIERREZ
FORMER WORLD N1
WHAT THE COMMUNITY IS SAYING
Incredible coaches and mentors who have helped me develop and learn so much in the game of padel. Mauri has always been an enthusiastic person who lives and breaths padel which is why he has been such a good coach for me and for everyone that will follow the Hello Padel Academy online and on court.
Top player in Great Britain
Sam Jones
I can learn at any time and on any device. I have my annual subscription and it is clear to me that whenever I want to master a stroke, I can do it learning from the best in the world.
N1 Ranked player in Denmark
Marc Moller
There are a lot of tennis players talking about padel nowadays. Having a platform with the best players and coaches in the world, in English and subtitled in another languages is really a privilege that everyone should take advantage of. I recommend it 100%.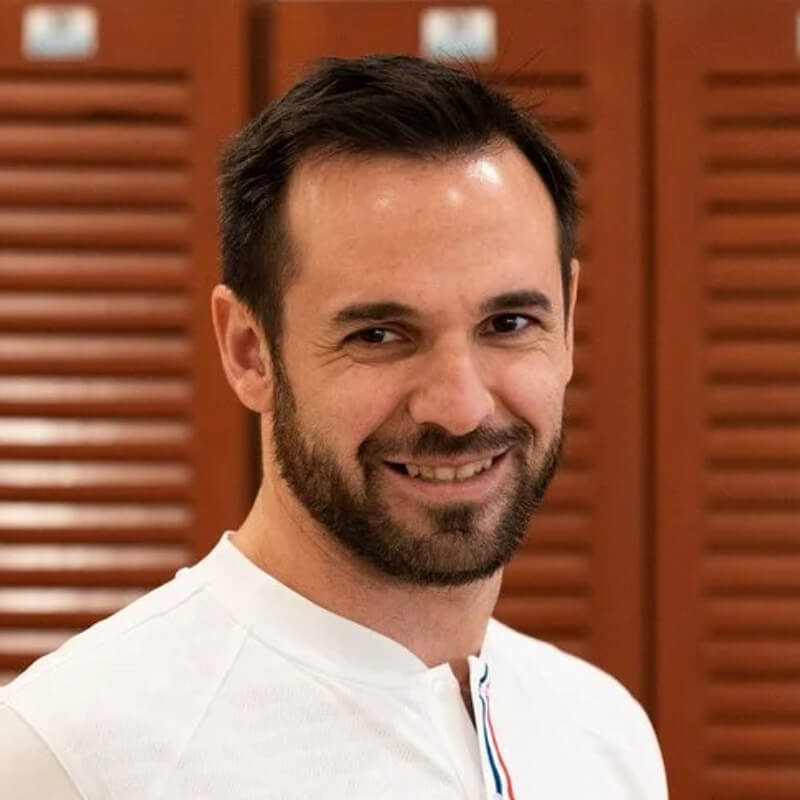 N1 player in France. WPT player
Ben Tison
Having come from a tennis background, my decision making and shot selection has improved infinitely since I started using the HPA platform. The lessons are great and instructive, moreover the information is super valuable. I have been fortunate to work with a lot of great coaches in my time as a tennis player, but Mauri really is one of a kind.
Former ATP and Wimbledon tennis player
Scott Clayton
It is clear that learning online is not the same as on the court, but the reality is that having hundreds of online lessons at the price I pay for 1 class at my club is more than worth. I love Hello Padel Academy.
German National team player +45
Inga Schmidt
Having access to all the technical-tactical information of the sport, and also fitness and health information specific to padel, is something that you cannot find anywhere else. I am an intermediate player and the fact is that everything I learn is useful for my game.
Head Coach from SAUDI ARABIA
Abdullah Albasiri
We understood that we needed to increase our knowledge in how to coach and build up our club. Our aim was to focus on junior players and ladies and we were looking for how to set up a good organisation and structure for that purpose. During the education I started to know this amazing platform. Mauri and all the pro players explain in a good and easy way and then we can apply this into our own club members. Amazing amount of information.
Club Owner - Helsingborgs Racketklubb, Sweden
Anders Mattsson
My decision making and shot selection has improved infinitely since I started using HPA platform. The lessons are great and instructive, moreover the information is super valuable. Every padel player should use HPA for improving their game.
Club manager - Estate padel club, Holland
Camil Bouwhuis
HPA is differentlevel! The quality of the videos, the editing, the sound, the instruction... it is really economic taking into account what they offer on this platform. Thank you Mauri Andrini and all the team for such a great job.
Intermediate level Padel Player, Argentina
Matias Sarion
In my country the coaches are not so experienced, and thanks to HPA I can learn as if I were in Spain or Argentina with a professional information about every single part of the game. Highly recommended.
Padel Coach in Belgium
Sven Rymenans
The good thing about this platform, is that I am sure that the information I receive is good quality padel. Because the coaches were born and raised in a padel environment, so they have decades of experience in this sport.
Advanced player in the UK
Ethan Bardo
FAQs
Why should I subscribe to HPA?
Because you will learn from the world's best. HELLO PADEL ACADEMY is the first and only platform developed by WPT players and professional padel coaches with more than 30 years of experience. In this ¨e-padel¨ programs, you will learn this sport directly from the best professionals in the world. We are the platform with the best quality of recording and editing of content. In HPA our only objective is to get the best version of padel from each of our subscribers. If the lessons received come from the best in this sport, then you will know that it is the right way to go. At HELLO PADEL ACADEMY we are a global academy made by Argentines and Spaniards pure padel players and coaches who have been working with this sport for decades at top international level.
Subtitles
At HELLO PADEL ACADEMY, we don't want you to miss a thing! Most of our videos are subtitled to allow you to fully understand, step by step. The subtitles are in 6 different languages; English, Spanish, French, German, Arabic and Italian. You can find the subtitles in each video by pressing the CC button on the screen (see photo example). If you cannot find one of the aforementioned languages subtitled, it is likely that we are still developing it. Enjoy your HPA experience.
Is this platform the right one for me?
Yes of course padel lover! The platform is designed for all levels of players, with instruction, tips and advice from the most prestigious coaches and players. Through our lessons you will not only be able to learn from the best professionals in a comfortable and accessible way, but you will also have fun while reaching your full potential as a player. If you are a padel fan and want to improve your game, HELLO PADEL ACADEMY is your place in the world! GO FOR IT!
What is included on HPA Membership?
Membership includes access to an incredible catalog of instructional online lessons & personal stories by the world's top padel professionals. Players, coaches, fitness coaching, Sports Orthopaedics specialist… etc. Each pro will share all their secrets with you. Step-by-step techniques of their best shots, tactics and strategies to develop at each moment of the game, physical and mental preparation off the court and many other ¨tools¨ that will help you take your game to another level, just #differentlevel. If you are a subscriber of HPA (Premium user) you will also have a special discount on our COACH section. You will invest much less on each coach pack! Each pack will last 1 year so you can watch it anytime at anywhere.
Will there be any more players added?
Yes! Players, coaches, and all the top ambassadors of padel are part of HELLO PADEL ACADEMY. Our team is continuously adding updated material with the best players, world-class coaches and the most complete sessions. So in this way, you will always have the best tips to improve your game techniques, and take it to levels that you never thought possible! Become the player you have always dreamed of!
Do you think HPA will help improve my game?
It is clear that information is the main thing to develop any task, job, and clearly, a sport. If this information comes from those who do it best, then there is no doubt that it is a very high starting point! Accessing technical, tactical, physical information, among others, is a very great advantage not only to play better, but also to enjoy while you learn. You will see, when you as you progress through the lessons, your way of seeing padel will change and your skills will improve ... because you will be learning from the best.
Where Can I watch?
With HELLO PADEL ACADEMY you can learn and improve at any time, from any place and on any device. Whether you are using your tablet, computer, smartphone or any other streaming device, you can continue to develop your game at your own pace whenever you want!
How can I find the lesson I need?
The ¨Lessons finder" is the best tool to find the lessons you are looking for. You can search by shot, by game level, by game area or directly by typing on the keyword. For example, do you want to learn bandeja shot? You simply have to go to the link ¨shot¨, click on ¨ bandeja¨ or write the word ¨bandeja¨ in the search engine and you will see all the lessons where we teach the bandeja shot from different players and coaches. In this way, you will see that there is not only one valid way to do it and you will be able to choose the mode that best suits your game. The Lesson Finder is #differentlevel
What is HELLO PADEL COACH?
If you are a coach or if you are not but you want to have information about ¨how¨ the pro sports padel teach, then the HELLO PADEL COACH section is all yours. You can learn how the best coaches in the world instruct and perform their exercises. They will help you train your child or adult players, whether they are beginner, intermediate or advanced level. If you are already a subscriber of HPA (Premium user) then you will pay 50% less on each pack! Each pack will last 1 year so you can watch it anytime at anywhere.
How much does it cost?
The annual membership starts at just €109 (€9,08 a month) and provides unlimited access to all pros players and new pros as they launch. All HELLO PADEL ACADEMY memberships include unlimited streaming, high-definition videos. The subscription includes also 50% discount on coach packs. Additional exclusive padel experiences are available at our HELLO PADEL ACADEMY based in different countries around the globe.
How do I cancel?
If you do not want to continue with your membership, you can cancel it by following the steps indicated on your account page. You will always keep the period you have already paid for. Please note that there aren't refunds for partially unused membership periods. If you have more questions or concerns, we will always be happy to help you through our email
[email protected]